October 11, 2019
Is Cosmetology a Good Profession?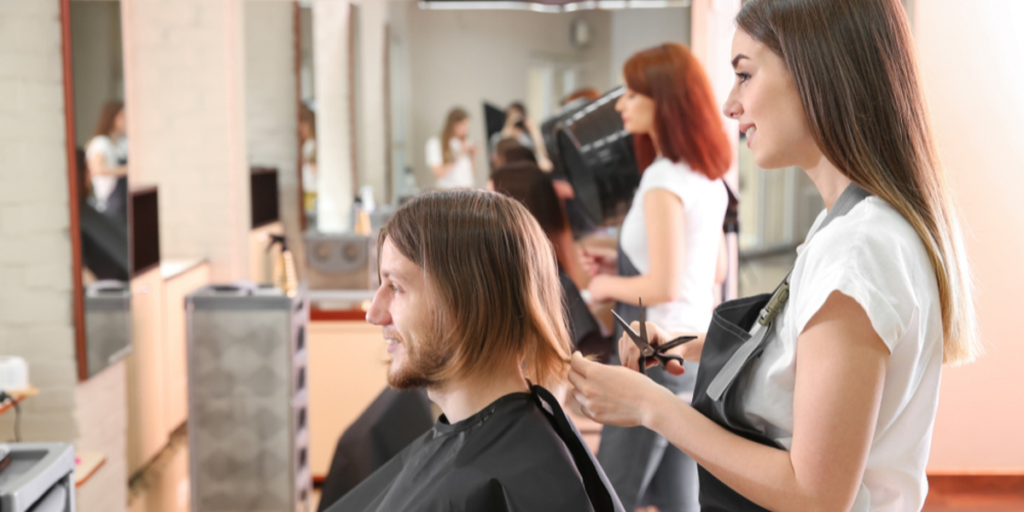 You may be wondering about a future in cosmetology and if it's a good profession. We've got the details on the growing industry, career possibilities, and specifics on how to work towards a cosmetology license to see if beauty school is the perfect fit for you!
Is Cosmetology A Good Profession?
When you think of cosmetology what comes to mind? While many people may say hair styling, there is so much more to cosmetology than styling hair. Cosmetology school can cover hair cutting, hair styling, chemical hair treatments, skincare and facials, waxing, nails, nail health and more!
Licensed cosmetologists can work anywhere from a spa to a television station, some even start their own cosmetic lines. Many doors can open for you if you choose to pursue a future in cosmetology.
What Careers Are Possible With a Cosmetology License?
Those who attend beauty school and pass a state board exam can follow multiple career options. Licensed cosmetologists can potentially work as estheticians, makeup artists, hair colorists, color correction specialists, hair stylists (both styling and/or cutting hair), hair chemical treatment experts, manicurists and/or nail technicians, wax specialists, or provide a combination of services.
If you're looking for a future in Hollywood or even traveling the world, cosmetology may help you get there. Many celebrities have a personal hair stylist and makeup artist that travels with them and provides services on a daily basis.
Whether you love to make people feel and look beautiful or you simply love being your own boss an education in cosmetology can help you accomplish it all!
Where Can I Work?
Becoming a cosmetologist can help you follow your passion and may even allow you to perform beauty services on a freelance or contract basis wherever you are licensed.
Licensed cosmetologists can work for spas, cruise ships, salons, barber shops, television stations, photography studios, nail salons, waxing parlors, nursing homes, skincare facilities, and just about anywhere else. If you like to travel and meet new people you can work going directly to your customers and provide hair styling and makeup services for magazines, photo shoots, weddings, sweet 16 birthday parties, beauty parties at your client's homes, or anywhere your clients may take you! Some cosmetologists perform services all over the U.S. and their clients even pay for their flight and stay.
How Much Money Can I Make?
The amount of money you can make depends on where you work, the type of work you do, and your experience.
Unlike hourly, working on commission will give you a percentage of what the customer pays while the company you work for receives the rest. This means the more efficient you are, the more money you could be making! Cosmetologists can work in a number of different positions, sometimes working freelance, other times working directly for an employer.
While you're in cosmetology school, it can be a good idea to explore different career options and make a plan for your future. This can include taking a job in a salon and working your way up to owning your salon, or starting out building your own freelance clientele and picking up more clients along the way. You can earn more money the more experience you gain!
Cosmetologists can also work as freelancers for brides, television studios, commercials, or print work. Freelance work is limited and licensed cosmetologists should avoid chemical services, nail services, and/or other services depending on your state. Freelancers can make a wide range per customer depending on what they are contracted to do.
Freelance cosmetologists typically charge based on each service, the distance they are required to travel, sometimes a kit fee, and of course the number of individuals they provide services for.
Famous Cosmetologists
There are many licensed cosmetologists that have no only had successful careers, but even obtained fame from their skill! Sam Fine is a famous celebrity makeup artist who has provided makeup services for stars like supermodels Naomi Campbell, Tyra Banks, Iman and celebrities like Queen Latifah, Vanessa Williams and Patti Labelle.
There is also Kevyn Aucoin, one of the most respected and admired makeup artists in the industry. According to IMDB, Aucoin worked on "Janet Jackson, Madonna, Whitney Houston, Kate Moss & Tina Turner[, and Meg Tilly]." He also provided hair and makeup for many other celebrities and worked directly for Vogue at one point.
Ursula Stephen is a celebrity hairstylist who has worked on celebrities such as Rihanna, Kerry Washington, and Mary J. Blige. She was responsible for Rhihanna's 2007 famous bob cut.
Nail technicians can also gain fame for their work. Take Andrea Fulerton for example, who has ensured that the models on the cover of magazines such as GQ, Glamour Magazine, Marie Claire, and more, have beautiful and perfect nails. She has also worked on the nails of celebrities such as P!nk, Britney Spears, Penelope Cruz, and many more.
These are just a few examples of famous beauty professionals. If you are interested in a future in the spotlight, a future in the beauty industry might be right for you!
How Can I Get A Cosmetology License?
Requirements for a cosmetology license varies from state to state, but usually requires a set number of hours in school and taking a state exam. You can learn more about the requirements in Georgia for obtaining a cosmetology license by visiting their website.
We think that cosmetology can be a great profession for those looking for an exciting and rewarding future!
Learn More About Us!
If you are interested in applying for beauty school, Keune Academy by 124, a Redken Partner School, is located in Lawrenceville, GA and provides training to individuals who are looking for a future in the beauty industry. Our instructors have years of experience and can help you succeed. Contact us to learn more about the programs we offer and how you can find your future in the beauty industry!