September 23, 2016
RAGTRADE Atlanta: Atlanta's Week of Fashion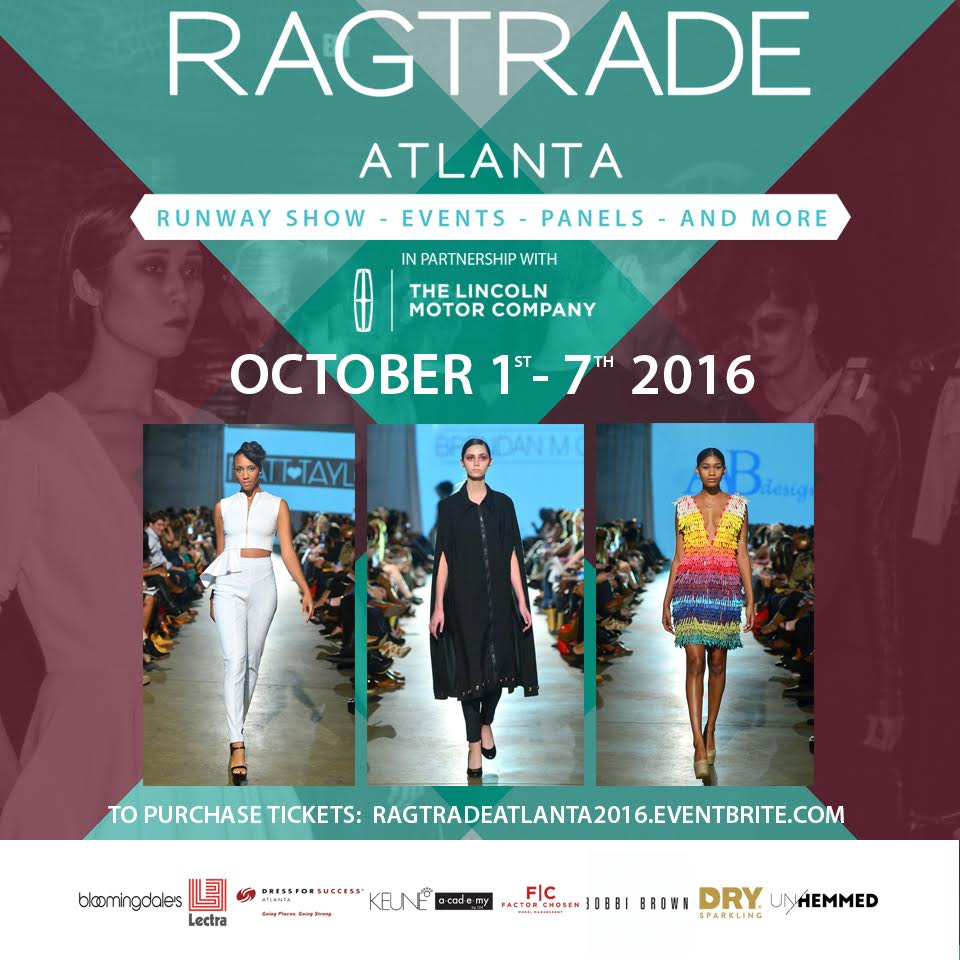 As New York Fashion Week comes to a close, we can expect to see other cities around the world prepare their runways for a week of chic, and Atlanta is not an exception! With the massive success in the technology, music, film, and TV industries, fashion is definitely following suit. No pun intended ha. RAGTRADE Atlanta is committed to the growth of the region's fashion, design, and retail communities. Created by a group of industry leaders passionate about developing the style society with a goal to promote fresh, local talent to the world.
Atlanta is your one stop shop for fashion. Literally. With at least 4 fashion degree programs, AmericasMart, the largest wholesale marketplace in the southeast, and home to some of the best international manufacturing and textile facilities in the world, its no wonder Atlanta has become a globally recognized shopping destination. Alongside the city of Atlanta with collaborations of industry leaders and resources, RAGTRADE Atlanta provides a platform for emerging talent in fashion.
The 3rd annual runway event will take place on
October 5, 2016
at the Georgia Freight Depot featuring the latest fall/winter 2016 collections on a COMPLETELY SHOPPABLE runway show from designers including:
Apoteca— Womenswear designs made in Lithuania
Cease & Desist— Contemporary menswear based in Atlanta
Natt Taylor— 2014/2015 featured RAGTRADE designer, winner of Belk's 2015 Southern Designer Showcase, & The City of Atlanta Mayor's Office of Cultural Affairs 2015 Emerging Fashion Designer Grant recipient
Onyii & Co.— Contemporary womenswear, Martha Stewart American Made 2015 Style Finalist
William Malcolm Luxe Collection— Luxury menswear created by "The Style Artist," William Malcolm
RAGTRADE Atlanta's week of fashion will begin on
Monday, October 3, 2016
with a Blogger's Night Out Brunch to kick-off the season in the city! It will be followed by the Opening Night Party on
Tuesday, October 4
, a full day of amazing runway shows by the designers listed above (with hair by yours truly), and we'll close out the week with the UNHEMMEDx exhibition merging fashion and technology on
Friday, October 7, 2016
!