February 20, 2020
What's the Difference Between Cosmetology and Hair Design?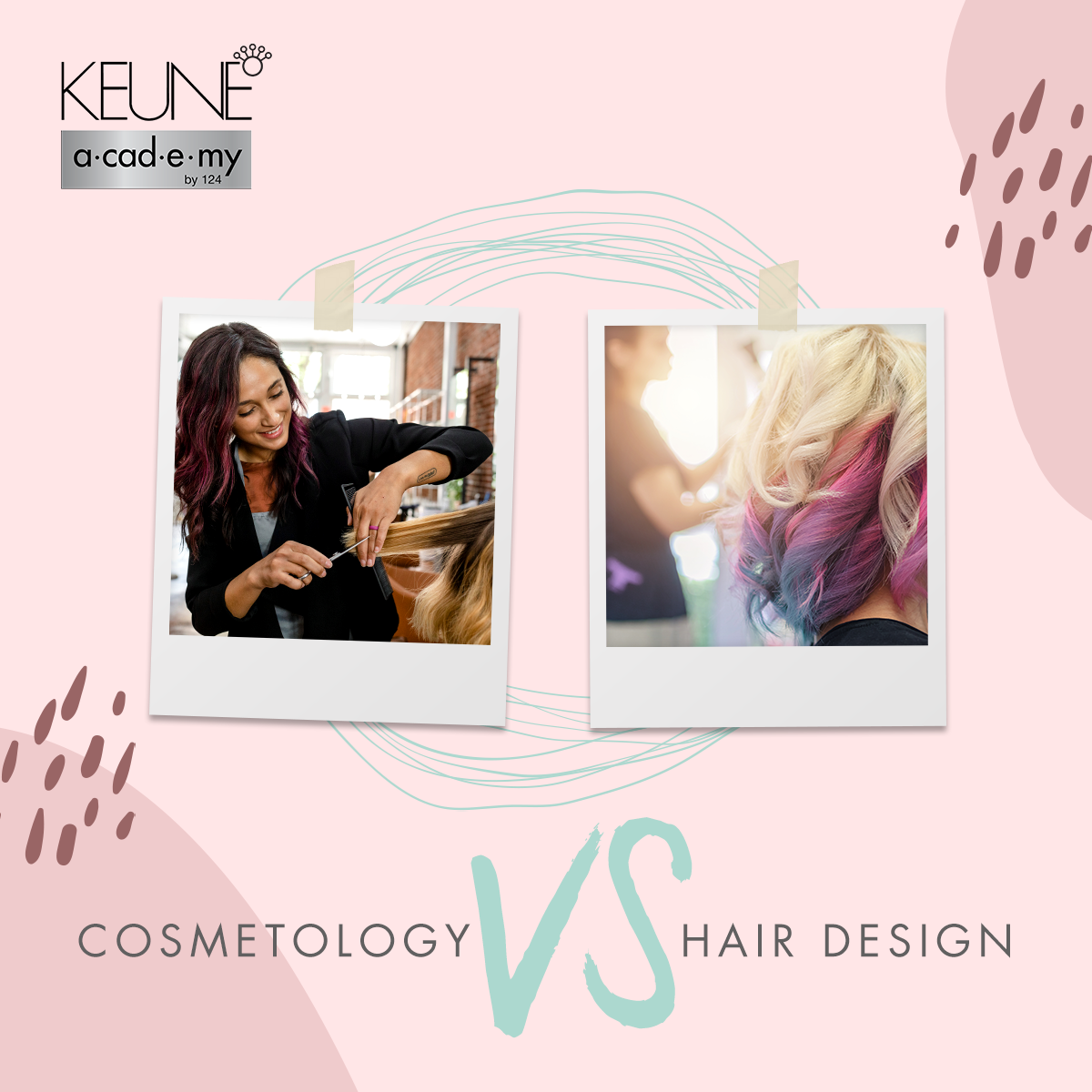 Have you ever thought about pursuing a future in beauty? At Keune Academy by 124 we offer two programs, cosmetology and hair design. Each program was designed to meet the needs of students whether they want to study hair, or learn more techniques in addition to hair. 
Cosmetology and hair design are two related fields within the beauty industry, but they are not the same! While they both involve working with hair, there are key differences between the two. Learn more about the difference between cosmetology and hair design and see if one might be right for you!
Cosmetology is a field that involves the study of hair, skin, nails, and makeup. Cosmetologists are trained to provide a wide range of services, including haircuts, color treatments, facials, waxing, and more.
Our cosmetology program is designed to cover the basics of hair design, skincare, and nail care so our students can pass the state board licensing exam and start on their future careers in beauty. This curriculum includes:
Hair cutting & styling

Hair coloring

Texturing & perms

Manicuring

Pedicuring

Skin care services

Makeup

Business education

And more!
If you are interested in learning multiple fields in cosmetology, including skincare and nail care, our cosmetology program might be right for you! If you're more specifically interested in just hair and makeup, we recommend learning more about our hair design program.
What is Hair Design?
Hair design is a more specialized field that focuses exclusively on the styling and design of hair. Hair designers use their creativity and skills to create hairstyles that flatter their clients face and personalities!
If you're passionate about hair and want to get started on your career a little sooner, our hair design program might be perfect for you. This program takes out skincare and nail care, which allows our students to focus more solely on hair. Our curriculum includes:
Hair cutting

Hair coloring

Color correction

Formal styling

Makeup

Texturing services

Business education

And more!
Although the state of Georgia does not require makeup education in hair design programs, we have decided to include it because we have so many students who want to study it! Social media has made makeup even more popular, with beauty influencers sharing their favorite products and tricks every day. Learning makeup in addition to hair can give stylists more flexibility in their future beauty careers.
HOW ARE THEY DIFFERENT?
Scope of services:

Cosmetology involves the study of hair, skin, and nails. Hair design focuses specifically on hair. 

Training:

Cosmetology requires 1500 hours of training while hair design requires 1325 hours.

Licensing:

Both cosmetologists and hair designers must be licensed to work, however the licensing requirements may differ depending on the state.
HOW ARE THEY SIMILAR?
While there are certainly differences between cosmetology and hair design, they also share some similarities!
Rewarding career:

Both cosmetologists and hair designers work with clients to help them feel and look their best. 

Creativity:

Whether it's creating a new hairstyle or applying makeup, cosmetologists and hair designers must be able to use their creativity to help their clients achieve their desired look.

Certain level of skill is needed: Professionals in both fields must be able to use a variety of tools and equipment and must be able to work with different hair types and skin types.
Beauty is a growing profession! According to the Bureau of Labor Statistics, the estimated job growth for hairstylists, barbers, and cosmetologists by the year 2028 is 8%. This is faster than average for all occupations. With this estimated growth, now may be a great time to get started on your passion for beauty.
Whether you study hair design or cosmetology, there are numerous options in the beauty industry you could pursue. From salons, to beauty marketing, to brand influencing, beauty professionals can have a lot of flexibility in their careers. Consider how much you like working with people, what kind of schedule you'd like, and what type of setting you'd like to work in. The beauty industry is expanding every day, so if you value creativity and innovation, beauty might be right for you!
Get Started with Keune
Are you ready to get started on your future in beauty? Whether you choose to become a cosmetologist or a hair designer, the beauty industry can be a rewarding and fulfilling career path. 
Contact us to schedule a tour and see Keune Academy by 124 for yourself. Talk to other prospective students, admissions representatives, and instructors and get a feel for our school. At Keune, we work hard to ensure our school feels like a family. We strive to help all our students feel confident in their abilities and fulfilled in their education. Meet with our admissions representatives and see if Keune Academy by 124 might be right for you!