June 23, 2020
What Does a Cosmetologist Do?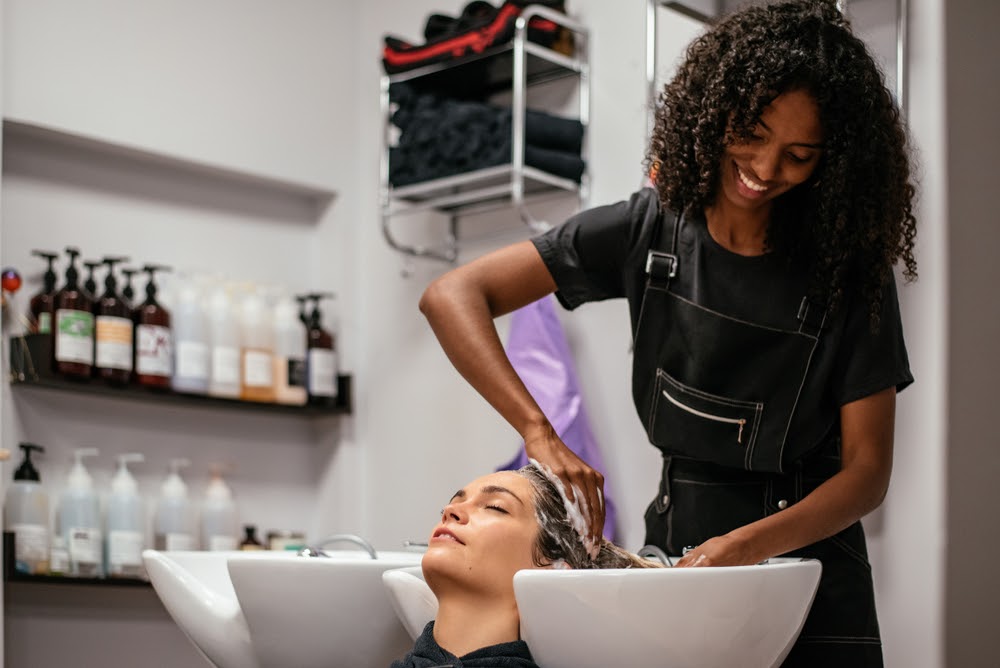 If you're thinking about pursuing a career in beauty, one of the most common professions is a licensed cosmetologist. These beauty professionals are people who beautify hair, skin, and nails. But, what can a cosmetologist really do with their license?
While the specific services a licensed cosmetologist can provide vary by state, here are some services that cosmetologists can provide in Georgia:
Haircuts and hairstyles
Shampoos or other scalp treatments
Perms and chemical waves
Hair coloring
Manicures and pedicures
Waxing
Eyebrow shaping
Eyelash and eyebrow tinting
Keep reading to get even more info about this field.
What Does It Mean To Be a Cosmetologist?
Hairstyling, Haircutting, and Hair Coloring
Most people love a good hairstylist! The feeling of walking out of a hair appointment with a new look that feels right and looks great can't be beat. To create that experience for guests, cosmetologists have to learn a variety of skills. Some skills licensed cosmetologists learn to provide at each hair appointment:
Haircuts for all hair types
Balayages and foiling color
Fashion colors
Hair blowouts
Perms
Braids
Product recommendations
If hair is your passion, there are other career paths you can take that focus just on hair, like licensed hair designers. You can learn the difference between the two in our blog.
Makeup and Skincare
Cosmetologists can learn some of the things that an esthetician learns in Georgia, which means they often learn how to care for the skin and apply products to help clean, exfoliate, and beautify.
As part of a cosmetology education, you can learn how to apply makeup, give facials, and perform certain hair removal services like waxing.
Manicures and Pedicures
A good nail artist can shape natural nails, apply nail polish, and do any other artificial nail sculpture applications. Licensed cosmetologists can do this too! You can choose to provide a basic manicure or pedicure, or you can give a service that lasts a little longer with gel nail polish.
Licensed cosmetologists also know how to remove the gel polish in a way that keeps nails healthy while providing a relaxing experience for their guests.
Experience It Yourself
If you want to see future cosmetologists in action, schedule an appointment at our student salon*! You can get services with salon-quality products like a new haircut, makeup look, or even a gel manicure or pedicure while supporting our students.
*All services provided by students under the supervision of licensed professionals. Services have been changed to meet new safety and sanitation guidelines set by the Georgia State Board of Cosmetology. Read more about these changes.
How To Become a Licensed Cosmetologist
Becoming a licensed cosmetologist may take some work, but it can be worth it! At Keune Academy by 124, the steps to become a licensed cosmetologist look like:
Applying to beauty school
Completing the required hours and credits
Sitting for the state exam
You can learn more in depth on how to become a cosmetologist in our blog.
Where Can Cosmetologists Work?
Once you've taken the steps to become a licensed cosmetologist, it's time to start looking at careers. Licensed cosmetologists can pursue careers like these:
Fashion show stylists
Theater and movies set stylists
Hair stylists at hair salons
Stylists on cruise ships and resorts
Licensed professionals at spas
Ambassadors of branded products
Beauty bloggers and influencers
Is cosmetology a good profession? We think so! In fact, according to the Bureau of Labor Statistics, the cosmetology profession is expected to grow by 8%, which is faster than average. We're excited to see where a career in cosmetology can take our students!
Explore a Cosmetology Education at Keune Academy by 124
If you have a passion for all things beauty, explore our cosmetology program and how we can help you achieve your dreams.
At Keune Academy by 124, we strive to give our students the tools they can use to be successful. This includes business training to help beauty professionals market themselves and choose to work in a salon or become their own boss.
Schedule your tour today to learn more about starting a cosmetology education at Keune Academy by 124.